Guys, it is totally summer here! I know, I know, I just can't seem to shut up about it - it is still strange for me to look forward to summer this much, and to be so excited about the novelty of sunshine.
Henry and I went out into the backyard yesterday and worked on our tans:
Ah, just kidding, no tans here - I am super paranoid about sunburn these days. Luckily we got three sunhats in a bag of clothes from my cousin the other day, although I did have to attach some string to this one so that Henry would stop taking it off.
Not 100% successful, but it slowed him down at least.
Whoa, do you know how fast time goes? In one week, Henry will be one year old. In just under two weeks, we head south to Reykjavik, and then a couple of days after that, we'll be in AUSTRALIA. Seriously, people, I'm so excited about life right now.

Amma and Sigga have gone on their trip to Germany and up (down?) the Rhine. Sounds like they'll have an awesome time, and in the meantime I'm feeding Amma's cat and watering her garden. She asked me to go round and pat the cat once in a while, but she bit me the first day, so we just exchange polite nods instead.

By the way, I have a pseudo excuse for not taking many photos - every time I try, I get this series: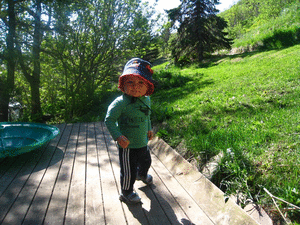 'Oooh, what's that you've got there? Hey, you have a camera! Gimme!'